Dear Westshore Centre for Learning Students, Parents and Guardians,
Langford campus students and Parents/Guardians may now access their Report Cards online. You should have received a temporary password by email for the My Educational BC Student Portal. Their pupil number is the user name, along with the password, will allow parent/student to view the report cards, recent attendance history, and parent/emergency contact information. You must use a desktop or laptop computer to activate your user account for the first time.
For an instructional video of these instructions, please go to: MyED Portal
Review: How to log into the portal
1) User name is the student Pupil Number (this is the same number students use as their password to access Moodle)
2) Password you will receive this temporary password by email and once you log in a prompt to change this will appear.
Go to https:/www.myeducation.gov.bc.ca/aspen/logon.do
Use your student's pupil number as the username, along with the password
You will be prompted to change your password and create your security preferences (recovery email in the case that you forget your password, security question and answer).
The screen below will appear.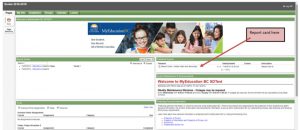 Click on the pdf file on the right hand side to download and view the report card.
On the left, under recent activity, you are able to view information about any recent absences.
The My Info top tab allows you to view demographic information, current schedule and contacts. Please note that the Assessments, Notifications and Request tabs are not yet currently in use.
The other top tabs are not yet in use in our school.
If you have any questions, please contact the school office at :250-391-9002. You may also request a printed copy of your student's report card by contacting the main office.